---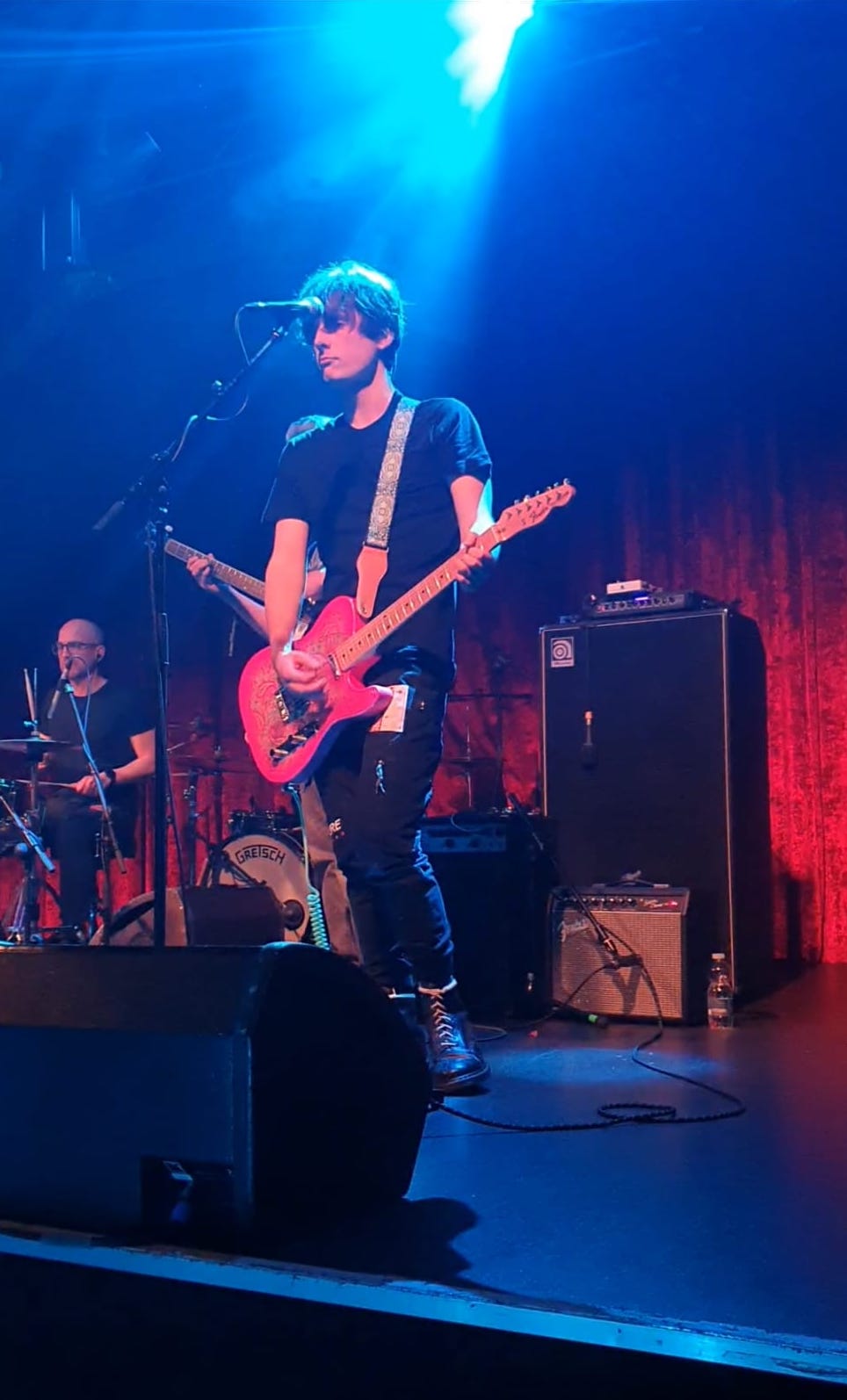 About
Hello there! I'm a Multi-instrumentalist and Composer based in Dublin. Coming from a musical background, I started in bands as a teen, having become a regular of the gig circuit as well as recording music reviewed by
Goldenplec.com
by 17.
In 2018 I received my BA in Jazz and contemporary music performance from DCU, where I studied for 4 years under some of the finest musicians in Ireland such as Tommy Halferty, Phil Ware, Ronan Guilfoyle and Francesco Turrisi.
Since then, I have been working as a performer, teacher, session musician and composer. I've worked with Indie band
The Crayon Set
since 2020, having taken residency in
Waterford's Theatre Royal
in 2021 as well as performing in The Grand Social and Other Voices festival.
Recently I supported
Teenage Fanclub
in early 2022. I was also one half of
Stef and Finn
, a jazz/soul duo that gigged around Ireland regularly and recorded in Temple Lane studios.
As a recording artist I have recently provided guitars for UK musician
Charlotte Hatherley (Ash, Bat For Lashes, Imelda May)
,
The Crayon Set
and Electronic artists
Boyfrens
. In 2022 there will be original music released, with live dates soon to be announced. Keep an eye on the site for news!
---
Session
Work
I offer recording services to artists who need guitars on their projects and releases. I record remotely from my home studio in Dublin and do so with a quick turnaround and professional quality. Send me a message and let's collaborate! Bass recording also available.
---
Private Lessons
I have been teaching Guitar, Bass and Ukulele since 2016, with experience in one to one as well as groups. I approach every genre with a strong grounding in technique, theory and experience. Every student is different, and as such I cater a unique approach for all of my students and set individual goals that we can achieve together.

In person lessons are available in Clontarf as well as Online Zoom or Skype sessions for those who are a little further away. Don't hesitate to get in touch!
---
"Finn is a fantastic teacher who I have made great progress with over the past year or so. The lessons have really helped me with specific skills I struggled to learn on my own. I highly recommend lessons with Finn as he is fantastic at making the complicated aspects of music seem simple and fun, as a teacher he is kind, patient, and knowledgable. Finn takes into consideration my reasons for learning the guitar and my own interests and always tailors his classes to them. Having an experienced instructor has really helped me to enjoy the learning process again instead of frustratingly practicing with little progress." - Leanne.
"Finn is an excellent guitar teacher. He has passion and drive and he is very patient. Finn is a very gifted guitar player and my son is very lucky to have him as a teacher.
Since Finn has been teaching my son he has improved so much, not only in guitar playing ability but also in appreciation of music. Finn has brought my son to another level all-together!" - Garazi

"Finn is a really excellent teacher, every lesson is unique and varied. I have learned so much from him and he really gets the best out of me and my playing, would recommend him to anyone!" - Cian


---
---
---
---
---
---